Buying Property? Look Before Leaping. Discover Survey & Property
Description Meanings In A Half Hour Online Tutorial ... Guaranteed!
After watching our step-by-step online tutorial, you are guaranteed to have the ability to easily read a survey and legal description.
You will receive approximately a half hour of online instructions illustrating the meaning of rectangular surveys and metes and bounds surveys. Designed for the beginner, examples and illustrations are given so that anyone can easily learn the basics.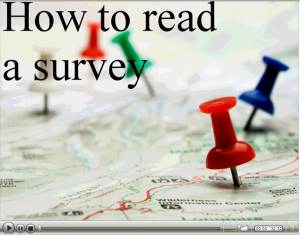 Surveys and property descriptions that appear to be confusing or beyond comprehension will become crystal clear after watching the online tutorial. Special books and tools are unnecessary for this online course.
A Seasoned Real Estate Broker Says ...
I am a practicing real estate professional in my 29th career year; and a broker since 1981.
I appreciate the common sense approach, combined with a few history lessons. But most importantly, I appreciate the inclusion of comments making the buyer aware of their own responsibility to read and evaluate the legal description. Or at the very least, make certain to inquire of their REALTOR or the title company to do so.
This detailed, practical presentation should be used to teach the buying public, as well as the REALTOR community.

Karen M. Edwards, Broker
REALTY 100 the Show Low Group
Show Low, Arizona
This is an online tutorial, so start watching immediately and harness the ability to understand your real property description and survey in less than an hour. Reading a property description and survey is much easier than you may have imagined.
Here Is The 100% Money-Back Guarantee
We guarantee results. You will know how to read a survey and property description after completing our course. If you cannot read a survey and property description (or for any other reason you aren't completely satisfied with our home study course), simply ask for your money back within 60 days of your purchase. We'll guarantee 100% of your money back with no questions asked. It's that simple.
This online tutorial is based on the instructor's 20 years experience in reviewing legal documents. Don't just take someone's word that the real estate description is in order, and don't pay someone else to review the property description and survey when you can handle it yourself. Be in control of the real estate purchase by knowing what you are buying.
The online tutorial is available for viewing immediately after ordering. Remember, the course is backed by a 100% guarantee. So go ahead and click the order link below and get started.
Order "How to Read a Survey" Video Course for $12.77
System Requirements: A web browser, high speed internet connection and sound cards. This 32 minute tutorial is split into segments for so you can easily refer to different topics without waiting for the entire presentation to load. The video can be viewed with a dialup connection, but it will take some time to load with dialup. High speed connection download time is approximately 1-2 minutes.